Stonehenge Diary 1988 – 2
Saturday 18th June.
1 (11.40am) Leave Salisbury for Shrewton site with Maggie Dixon. Rumoured to be evicted at noon today.
Those now present approx. 6-700.
Shown Sect 39 papers with direction to leave within 2 hours, served at 10.35am. Now 12.OOpm.

Phone Don and Tim Greene re. legality of paper. As they are camped on a by-way, marked as such, their view was that they could not direct people to leave under POA sect 39 as "Highway" is specifically excluded from definition of "land".
(1.02pm). Met with Supt. Pechowski. I queried with him the legality of the document. He stated he believed his legal advice to be correct and would be making arrests if people disobeyed the order. However, he was satisfied that people were packing up to leave and would not act immediately. Left at 2.30pm.
After ringing Salisbury, we travelled south on A345 from Amesbury. (3.25pm) On a field on the right of the road approx. 3 miles from Amesbury we saw some 50 vehicles in field being closed on by several foot units of MOD police. Some vehicles drove around being chased by officers on foot. Some vehicle windows smashed by truncheons (3.25pm). Vehicles shepherded into line on field and then directed by police to travel south on A345. Some arrests, none witnessed. Spoke to Supt. Pechowski. He states in a strained voice, "This is getting silly'."(0s 184/152 372).
About one hundred police with PSUs involved and a helicopter.
Left scene 20 minutes after convoy. Noted one red and cream coach still detained there.
People on foot given direction to walk south under threat of arrest if they didn't.
Dashed into Salisbury on back roads to pick up A345 northbound. Observed convoy now much larger 150-200 vehicles. Many ordinary motorists caught up in traffic jams with convoy (4.40pm).
Vehicles now travelling both ways round Salisbury ring road waving at each other!! (5.l5prn)
(6.00prn) 50 vehicles now parked in cattle Market car park in Salisbury.
Back at office (Salisbury) we hear of large gatherings of people in Amesbury.
Drove to Amesbury with Don (8.00pm). Walk and vehicles had left east down A303. Caught up with them just south of Bulford Camp.
Lots of walkers and vehicles now in by-ways and woodlands around1 mile west of Cholderton at St. Ann's Wood (Os 184/205425). Numbers and size of camp difficult to estimate because there are so many nooks and crannies. But appears to be many hundreds.
(9.30pm) Witnesses a farmer and employees blocking gates to neighbouring fields. Vehicles and people camped already in fields threatened with forcible eviction. Rev. David Penny observes the situation. Misc. farm equipment used to threaten damage to vehicles in field. Eventually everyone calms down.
Return to Salisbury 11.00prn.
Sunday 19th June.
Left Salisbury with Maggie Dixon (ll.30am) for site nr. St.Ann's farm. 1 mile west of Cholderton. Rumoured to be an eviction at noon.
Situation quiet on arrival. 2 PSUs on entrance to By-way leading to site in woodland. ? Perhaps 1000 people encamped, well scattered around. Definite 'festival vibe', people optimistic that they would be allowed to stay.
2.3Opm police helicopter announces instructions that people have 3 hours to leave under POA sect 39.
Discover PSU with small number of foot police serve relevant PO papers on main trackway through site. These papers give 2 hours notice to leave (not 3 hours?).
One third to half of those assembled leave promptly for various destination
Assorted site meetings convened. Majority view for staying put. However, many people uncertain of implications of their actions.
3.00pm Barricades made of assorted logs built across track-way to prevent access. By 4.00pm1 barricades had been taken down by other people frightened that this would antagonise police on their arrival and fearing the consequences.
Two hour deadline at 4.30pm. Many people asking each other what to do. All apprehensive as to police intentions.
Helicopter makes periodic sorties.
5.00pm Superintendent and 1 PSU announce dissatisfaction at rate of dispersal and warns of the possibility of arrests.
People now quietly apprehensive but still resolved to stay put. Others want to leave but cannot because of congestion of parked vehicles.
Stayed several more hours offering advice. Distributed 500 Bust Cards expecting imminent police arrival in force.
Maggie organises list of mothers 'and babies and their relatives phone numbers for contact in event of arrests.
Left site at 8.30pm because no longer believe police will act immediately (not long to dark).
Met with Inspector David Frampton (Maggie had made earlier contact). He expressed personal view that no action would be taken before tomorrow. He says his own shift arrangements had not been altered from l0.00am start, so early action unlikely. Extended and cordial conversation about our work. Leave scene at 9.00pm.
Drove to Amesbury. Large convoy of vehicles leaves Amesbury car park heading for site near Parkhouse roundabout at 9.20pm. Brig Oubridge (Green Party) with them.
Return to Salisbury l0.00pm.
Monday 20th June.
Leave Salisbury l0.00am for Cholderton site yet again. Rumours of eviction (under public order papers issued yesterday afternoon) at ll.00am – 12.00 noon etc. All still quiet with minimal police presence for numbers now on site.
Peter Mills of English Heritage arrives in early afternoon with an inspector and 6 PCs. 50 to 100 people assemble with much press. He offers a number of tickets to Solstice Ceremonies (This turns out to be 500). Tickets to be offered to a number of sites but this still adds up to be only 1000 in total. He asks those present to consider offer and talk amongst themselves.
Many site meetings ensue when it is generally decided that the offer is not acceptable. Now probably about 5000 people there, with more arrivals all the time on foot.
Numerous press interviews (radio and papers) but declined to talk to the Daily Telegraph, Daily Star or the Sun. In view of previous days coverage!
Mid-afternoon, Inspector Frampton serves an injunction on site. It prevents 5 named individuals (and their servants or agents) from entering land on and around Stonehenge, but excludes the highway. It seems, on advice, that this does not provide police with additional powers that they could not have exercised otherwise.
Stayed a further couple of hours on site leaving at about 6.00pm to convey injunction papers to Salisbury.
(9.00pm) Leave Salisbury again with Maggie Dixon for Amesbury area. Numbers of people milling about the town but no police presence. 50 – 60 living vehicles now parked in main car park in Amesbury.
Travelled A303 to Stonehenge and on to Airmans Cross. Numerous vehicles now in lay-bys and on grass verges. Back on A303 to Park-house roundabout (Hants – Wilts border). Contingent of 5 PSUs on Hampshire side.
Strong contingent of 8 PSUs now on station on track-ways from A303 to Cholderton site.
Site near Park-house roundabout (a lay-by, course of old A303 road), now full of parked vehicles, perhaps 1/2 mile long. Again a strong police presence.
Now arrived at Cholderton site again (l0.30pm). Vehicles now parked on both trackways into site. Quite impossible to get a vehicle on to the site proper because of the congestion. Numbers perhaps double those on site yesterday.
Maggie and I agree that because of numbers, congestion and nature of site, a First Aid team should be in attendance. St.John were contacted. They will attend providing they have permission from the landowner and police. However, presence would not be required until 8.00am tomorrow morning as site is expected to empty for Solstice. Inspector Frampton thought this a good idea and had no objection to a team attending. We discuss their probable location.
(11.30pm) Site partying. Much noise, music and jollity. Spirit of optimism that they could go to Stonehenge, walking.
Tuesday 21st June.
(12.00am) It seems the entire site is now on the track-ways through the woods. (At meetings it was decided to walk to Stonehenge leaving site at 12.00arn). There are obviously thousands walking. They leave by the western side of the woods via a minor road, which joins A303.
(12.30am) Leave Cholderton to Parkhouse, A303 westbound now closed. We proceed to Amesbury via a detour through military areas of Tidworth, Bulford camp etc. No movements observed in the region. (Past locations of police reserves).
Countess roundabout at Amesbury now covered with a number of living vehicles, bow tops and horses, chickens, ducks etc.
Back road out of Amesbury to Stonehenge has what can only be described as a festival happening near its junction with A303. 4-500 people parked here. Leave car here. Stonehenge less than 1 mile away.
About 2.OOam, main body of walkers now on A303 west of Amesbury roundabout. Maggie and I join them as they pass.
On the brow of the hill before the Stonehenge turn, the dual – carriageway blocked by two articulated lorries. Police allow people to proceed on foot through narrow access past lorries.
On turning onto the A3441 a huge police operation becomes evident. To start with there is a single line of police standing shoulder to shoulder on the left hand (Stonehenge) side of the road. This formation appears to have the object of preventing attempts to scale the fence, but more importantly to guide walkers into an area "penned off" by barriers.

This "Penned area" occupied the width of the A344 including grass verge as far as the car park where barriers were erected across the road, again with a single line of police behind them. The barbed wire fence enclosing Stonehenge field had a line of police extending most of the distance either side of the Heel Stone. Also an additional line of free standing barriers were erected four feet in front of the barbed wire fence next to the Heel Stone. A normal wire fence along the field adjacent to the car park completed the third side of the enclosed area. Within this field there were a number of people with their horses. A few there had actually put up tents
In the car park and on the A344 road beyond the barriers, there were parked a huge number of police PSUs.
The arrival of the main body of walkers quickly filled the enclosed area described above. With people arriving continuously after 2.30am it became quite a crush although there was snore room at the car park end of the enclosure.
It was becoming clear at this point that only the ticket holders would be allowed in.
Several attempts were made to breach the fence either side of the Heel Stone. Some were arrested on attempt, others evaded squads of police and E.H. security guards all to be bought down short of the stones.
At this stage the mood of those assembled was good humoured. Music was being played while others just remained quiet. Cheers were raised each time someone made it over the fence. About 5-6000 now present.
(3.30am) English Heritage ticket holders admitted to the stones shortly followed by the druids. Some of the crowd shouted at them. Many more attempts made to bring down the fence near the Heel Stone. Police now with truncheons drawn try to repel them sometimes resulting in injuries.
(3.45am) Druids begin their ceremonies. Some towards the rear of the crowd throw some missiles at police lines. At the same time, fighting by the Heel Stone becomes quite intense and a few throw some of the barriers into police lines. Some of these are thrown back into the crowd.
It appeared to me that a lot of the fighting and missile throwing was done by people I don't believe I had seen before. Further, a general description of some of those fighting at the beginning was that they had short-cropped hair, casual clothes, either leather or camouflage jackets and or generally 'clean' appearance. It seemed to me that they were not travellers and 'had nothing to do with Stonehenge issues, but had merely come for a "punch-up". I saw sortie of them actually fighting with some travellers as they attempted to cool things down.
Police lines now reinforced by officers deployed in riot gear with long shields adjacent to the Heel Stone. Police now also present with round shields. They form into "snatch squads" behind the long shields.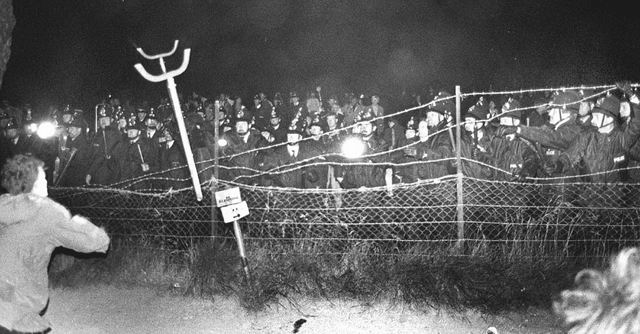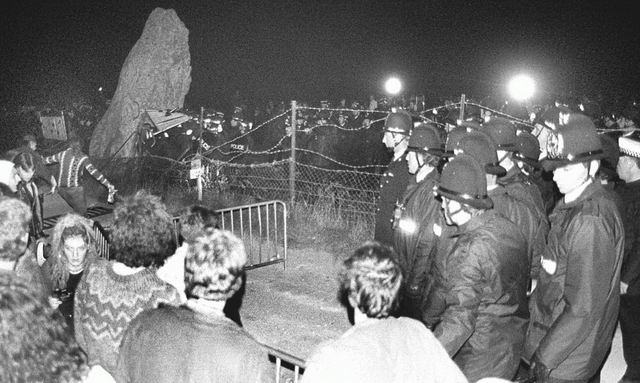 Line of police across road near car park now replaced by officers in riot gear with clear round plastic shields. Beyond them, large numbers of police "togged up" could be seen emerging from the car- park in teams for wider deployment within the Stonehenge field.
(4.OOam) Some climb on to the Heel Stone to loud cheers from crowd.
Shortly afterwards, a police helicopter (which had been present throughout) broadcast a warning that those around the Heel Stone are ordered to disperse or police will make more arrests. Message very difficult to hear as the collective noise of the crowd and the helicopter engine prevented most from hearing this.
While this was happening, Druids continued with their ceremonies, seemingly uninterested and unconcerned about events.
(4.15am) Another inaudible message from the helicopter now with the searchlight playing around the area.
Shortly after this message, police mounted a baton charge from the field behind the Heel Stone into the crowd on the road. People fleeing in all directions. Police gain quite a lot of ground on first charge. Numbers of injuries resulted, notably head wounds inflicted by truncheons. I saw quite a few people including teenagers and mothers with young children pushed down by crowd trying to retreat. Numerous arrests. Helicopter continues to make announcements that they should disperse. People are now scattered widely across the field opposite Stonehenge. It is now becoming light and more of the total scene becomes apparent. Horses with riders now retreating at full galop1 Luckily J don't believe anyone was 'run over'.
Some sit down as a protest and to demonstrate their non-violence, however, this does not last long as people are still quite densely packed trying to retreat so some get stepped on. I saw other instance of some people attempting to stop others from fighting with the police. This usually resulted in them being attacked by those people friends or police. Quite a few injuries sustained this way.
(4.30am) Arrests continue to be made as police now gaining ground across the field at the run.
At the same time, those still on the road were herded by lines of police down the A344 and on to the A303 towards Amesbury.
A long line of police wearing riot gear topped with fluorescent jackets to be seen herding those still dispersed across the fields back on to the A303 joining with the others.
During all this, I had now been separated from most people and ended up on the by-way which goes down the side of the car park. Not injured or arrested but a little "out of puff !!".
Police prevent me from walking east down A344 through 'battlezone' to walk towards Amesbury.
Sunrise 4.40am (very overcast).
I walk west to Airmans Cross roundabout.
Twenty vehicles parked near the roundabout and surrounding roads. Many shocked looking people around. Since leaving Stonehenge past Airmans Cross, I render First Aid to 8 or 9 people with injuries ranging from many cuts and bruises, to a suspected fractured forearm.
I then continue down the A360 to the A303, and then to Amesbury where I located my car which Maggie had moved. Proceeded to Salisbury office to see Mo and my kids and other TAT people returning at about 8.00am.
Sleep all Day!!
To David Penney's (National Council for Civil Liberties NCCL) house in Salisbury for the night and discussion on the days events.
Wednesday 22nd June.
Leave Salisbury at noon. Return to Caersws, Mid-Wales
Mileage
(Within area):
Start 104057
Finish 105973
Total 1916 miles.
Wilshire Police say they were interested to learn from the experience
Well they didn't, haven't and wont!
the situation with respect to the festival, remains …………….